Since this weekend seeme duber long, I'll break it up into pieces. I left work early so Jason could make it to Andrea & Josh's run through on time. The rehearsal dinner immediately followed at hi parents. It was nice. Laid back. No pictures though. I couldn't find my damn camera battery charger.
Friday was the day of the wedding. Still couldn't find my damn camera battery charger. We had to end up going to buy one for $50. So I can now virtually charge and camera battery known to man. I've been thinking and I think I'll open  up a camera battery charger shop in my garage. Prohibition-era style. 
So we got ready and headed out. Had to be there an hour early so Jason and the rest of the groomsmen could take pics... Here's one I snapped behind the professional photographer:
So Jason was busy snapping pics. Matthias was busy RUNNING A MUCK. OK not really, but serously, that kid has some energy. He was just running back and forth on the grass. I think it's b/c it was cushy. Which on any normal day owuld've been fine. But I was in heels and kept sinking into the damn ground.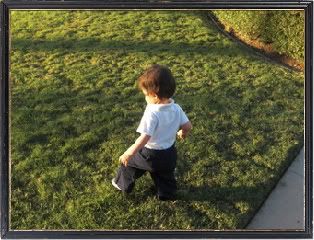 Then of course he got thirsty. Jamie's a good helper with him.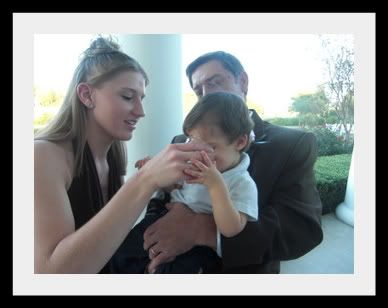 Time to sit down. It was nice to have them use the same ceremony musicians as us so I got to see them in action. Here's Jason escorting the bride's grandma. Which of course makes me sad.*sigh*
And of course the beautiful bride. Her bouquet colors were so pretty.
And that's pretty much all I saw of the ceremony. Matthias started to get fussy and wanted to get down and walk around. So it was either have him walk around behind the chairs or have him start crying.I know I wouldn't want that, so I got up and walked him around so I missed the ceremony. SAD. Ah well... on to the reception! Oh and mental note to self... they went thru 30 bottles of wine in 1.5 hours. She said her friends were alcoholics, so I might not need that much. Evidently she hasn't met my friends...
This has to be one of the cutest pictures I've ever seen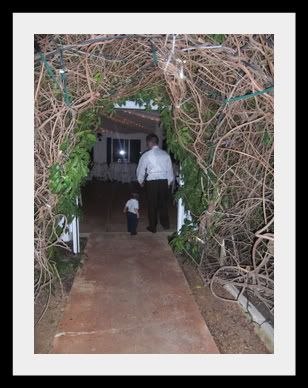 Jason giving his toast and the first dance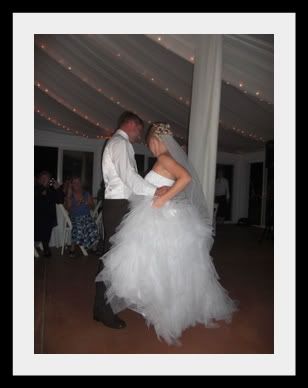 matthias with his uncle/godfather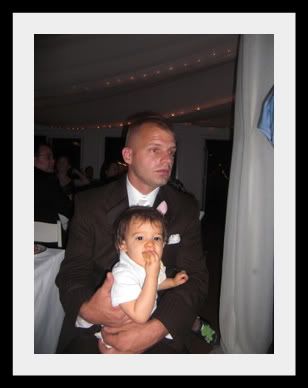 Seriously, why can't Jason just take a normal picture??
And he wonders why Matthias does this.. Dayum. He's all up in there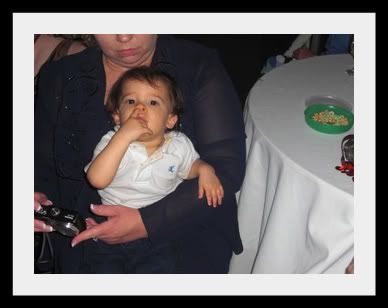 us
The end of the night. At that point we were hoping Matthias would sleep for a LOOOOOOONG time.
Josh told us to meet him at the Stephen F Austin at the bar where they were staying. We tried to convice jeremy to go but he said he "had other plans" mmm hmmm Prolly trying to get laid. So Jason and i went but by the time we got there, they weren't there. We figured since we had paid for parking we may as well go out. So we went to Apple Bar, my fav! I just happened to be looking out the door when I saw them walk by. So Jason runs out and they all come in. But Josh is FUCKED UP. (I remind myself not to drink that much on my wedding day.) Screaming and cheering for God knows what. Then he immediately passes out on the couch. Apparently, this is what a man looks like a few hours after he gets married. Beaten, defeated... lol
And I finally got a pic with the bride. Fun times.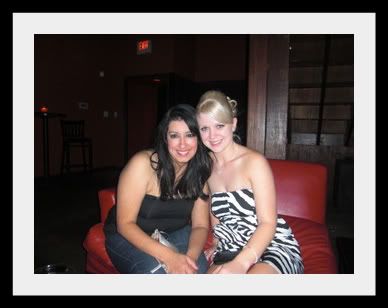 So here's some mental notes from Friday night:
Order more alcohol for our wedding. Don't drink a whole lot and don't let Jason drink a whole lot. Give the DJ a DO NOT play list. Make sure you get a good idea of what the DJ will play. For other purpose. No matter how much you loe a dress, if it doesn't look good, don't wear it Veronica. You looked like a beached whale in black satin. Nix that a Killer WHale. Orca if you will. NICE. Even if you are going to be taller than Jason in pictures b/c you can't live without heels, don't slouch. Your posture looks horrible and it makes you look fatter. Just be taller than him. Get over it. Cheers to a fab wedding!