It was a nice weekend. Very relaxed. My sister came over and stayed the night and it's always good to hang out with her. I bought Matthais some new shoes which he lost one of right away so I had to go hunt down another pair. But they're really cute b/c they almost look like Jason's shoes so dad and son match!!

Matthias had his first taste of a sno-cone which was fun. He enjoyed it VERY much.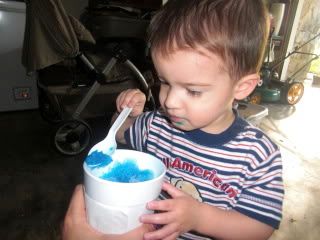 with his shades on and a slightly blue mouth: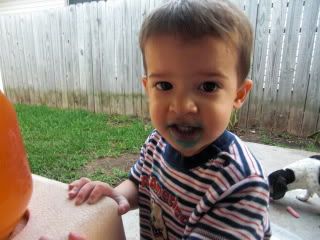 Being a goober:



Rufus with the shades on now:



Scraping out what's left and Rufus eagerly awaiting for Matthias to share: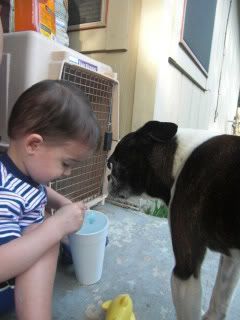 With a blue tongue now: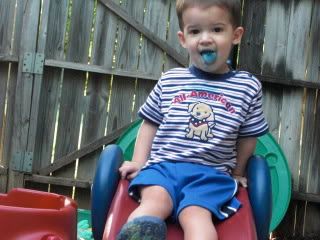 On Sunday, i met up with Laura and Kim for Drinks & dresses. I was running behind as usual but had a good time. Time with my girls is ever dull. :o) We also determined that this will be a monthly installment. Yippee!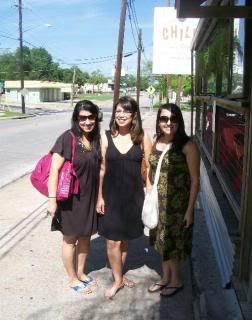 Then afterwards, Jason and I went to Lowe's b/c I saw some lamps I had wanted a long time ago on clearance!! So he bought them for me. I could tell he wasn't to thrilled but he knew I've been wanting them for some time. Have I mentioned I puffy heart him?? I think they're an early Mother's Day present. Which is fine, b/c it's something I TOTALLY wanted.

But then we needed to get some lamp shades and I wasn't really too thrilled with the ones they had there. So we decided to get the lamps and wait on the shades. Then I wanted to get some cheap fake flowers to fill this wall thing that used to be my grandma's. So we went to Wal-mart and they had a nice lamp shade but Jason thought it was too fancy for the bases we bought. So then I thought that Bed Bath & Beyond might have some shades and we have so many gift cards from there still from the wedding. So we went and i found some shades i LOVE. Jason ended up liking the whole ensemble!!! yippee!!

Here's the new lamps with the new shades!


(don't mind the mess on the table... focus on the lamp)



(with our beautiful wedding pic)

and the wall thing-a-ma-bob



Good weekend. :o)