Last Sunday we washed both vehicles. (Translation: Jason mainly washed and I supervised) But Matthias was whining because he wanted to help. Whatever it is you're doing, he wants to do it too. But he's such a good helper. He really genuinely tries and it is THE. CUTEST. THING. EVER. Just sayin...

Holding the hose waiting to rinse...



After finally getting a hold of the sponge, he promptly got down to work



Gotta soap up the sponge again...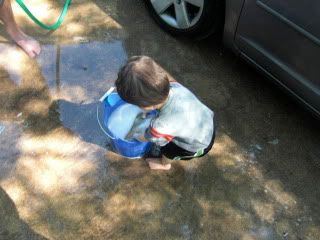 and posing for mom :o)